It's not hard to imagine that democracy in the United States could be improved. What would a better democracy look like? Would it include a parliamentary system--or a proportional representation system? Should universal automatic voter registration be considered? What role would sortition play? To answer these questions and discuss how America's system of government can be improved, Democracy Nerd is joined by Kristin Eberhard, author of "Building a Democracy: How We Can Fix the Electoral College, Gerrymandering, and Our Elections."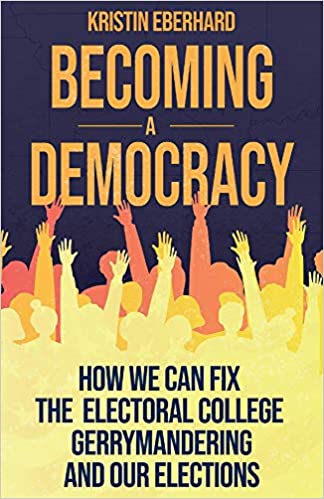 Building a Democracy: A Field Guide to Solutions for American Democracy
JEFFERSON SMITH: Welcome, everybody. Welcome to Democracy Nerd. Over the past few months, it is not hard to think that something is wrong with our system of government. We want to call it a democracy. The discussion today is how might we get there. How might we make it a democracy.
From riots of the US capitol to state bills attacking voting rights and voter access, it is hard to think that everything in democracy is working well. But maybe that is a moment that will galvanize us to recommit to democracy.
It's enough to make one wish for a handy guide to help us fix democracy in the United States, and just our luck today we're joined by that handy guide book's author, Kristin Eberhart, Director of Climate Democracy at the Sightline Institute, a think tank in the Northwest, author of "Becoming a Democracy: How We Can Fix the Electoral College, Gary Mandering"--she might say gerrymandering--"and Our Elections." Welcome our friend, Kristin Eberhard. How you doing Kristin?
KRISTIN EBERHARD: Thank you, I'm doing great.
JEFFERSON: Let's start with that: What is your preferred pronunciation for Gary mandering or gerrymandering?
KRISTIN: I say gerrymandering. It was from Eldridge Gerry, but uh you know. I go with the, the popular pronunciation, which is gerrymandering.
JEFFERSON: I remain unpopular. The title of the book, you know, "Becoming a Democracy" sort of suggests--maybe more than suggests--more than implies the United States is not one. Make that case.
KRISTIN: Democracy means that the power comes from the people as a whole and that was, you know, revolutionary. Literally came from the American Revolution. At the time the idea that it didn't come from God or from, you know, bloodline or kings but that the people should be in charge and so on the one hand we made this great step forward in the United States when we created democracy, on the other hand we have always, from the beginning, not actually wanted to include all people. So the very beginning we only included less than 10 percent of people were even allowed to vote. We now have, you know, technically all adults are allowed to vote, but we still actually in effect exclude a lot of people from participation.
JEFFERSON: All right. Do you agree with the Princeton-Northwestern study, the--I don't know--simply probably overly simplistic conclusion is that we are better defined as an oligarchical plutocracy than democracy?
KRISTIN: So, I have seen, um, I love that study, but I've also seen some critiques of that study. So Ii don't want to endorse it, uh, too wholeheartedly.
JEFFERSON: A couple critiques and it scares you away? A couple critiques all it takes?
KRISTIN: There's supposed to be evidence...
JEFFERSON: Is there, maybe oligarchs funded the critiques?
KRISTIN: But the overall idea that wealthier, more privileged people have more power I think is pretty uh, uh, I will not dispute that thesis.
JEFFERSON: It seems unassailable.
KRISTIN: Unassailable.
JEFFERSON: Iis there anybody--is there any critique of that? It seems like the debate right now is either, uh, that's true or let's not talk about it or that's good. It seems like those are the responses. Is there anybody who has a fourth argument: no, no that's not true and things are going great, the people are in charge?
KRISTIN: I, I don't think so. Yeah, the, the there's a Republican quote recently that said well you can't just think about the quantity of votes, you have to think about the quality. Um... it's like so you know, we don't just want everybody voting, you know. How, what are your qualifications as an oligarch if you're going to show up and vote?
JEFFERSON: We'll get to it, because I'm going to want to talk about, I'm going to talk about your various pillars. I'm also going to want to talk about sortition. That's a teaser. That's a teaser.
KRISTIN: Sortition!
JEFFERSON: I know, I know. It's a teaser…
So the, uh...you argue that, or I don't know, I don't think you argue this. Some argue that the idea that we're supposed to be a democracy is socialist propaganda. And in fact there, there are those now who are even undercutting, because they sort of see maybe the writing on the wall. The people in charge, maybe some things will change. Uh, and that there is a significant differentiation between republic and democracy. How do you respond to that argument? Where do you see the, where do you line up on it, or, you know, I--I think I'm formulating a view at this point, but I'm more interested in yours.
KRISTIN: If you really want to get technical, um, we are a democratic republic. So a democracy just means that the power comes from the people, and a republic means that you have a constitution basically that, that sets out to the rules of the, of the game. So we are a democratic republic. We say that it is the people, ultimately, you know, who get to vote and who get to decide and they, the representatives are accountable to them. And we are a republic because we have a constitution, um, and a system of representation.
JEFFERSON: All right.
KRISTIN: So I completely agree with those people.
JEFFERSON: And you, but you--you roughly endorse, you roughly are in favor of a democratic republic.
KRISTIN: Uh except for sortition. Yes, I'm in favor of a democratic republic that makes heavy use of sortition for representation.
JEFFERSON: Well, we're going to get to that. We're going to get to that. Let's start though with another fake thing. Let's imagine...let's imagine that you were to Infinity Gauntlet...I've heard the kids today, if we want to get the kids today caring about democracy we should make pop culture references. Okay, so let's say you had the Infinity Gauntlet and you were able to find all the Infinity Stones and you're going to be able to do a "Thanos snap" but instead of trying to eliminate half of all human beings--which i do not think that would be your proposal--what would you do to become a democracy, and whether it's like one snap or maybe you get one for every jewel what do you do?
KRISTIN: Yeah, I was like how many words are in the snap, is it like "half of all people." Like, "multi-member districts."
JEFFERSON: You could do your thing. You could say, "Kristin Eberhard, democracy dream." And then, and then that has 77 parts. You decide how long or which you want to hold forth.
KRISTIN: Bam. Okay. So, I would have a right to vote. So that. "Hey, everybody can vote." And then I would have a right to equal representation so we wouldn't have crazy things like the electoral college which over represents some people, you know, some people are just more important in the electoral college than others. And then I would basically get rid of gerrymandering by having multi-winner districts so that everybody gets a fair shot at representation. And then i would have sortition, to, uh, as a kind of a backstop to to sort out the thorny problems that, uh, people who have to run for office can't solve.
JEFFERSON; Sso let's start with the first. that provides us a handy outline to go along with our discussion about your handy guide book. How was it, by the way, writing the book? Did you enjoy it? Was it hard? Was it painful? I've heard people who have written books saying that finishing the damn thing is like defeating a monster.
KRISTIN: Yeah, by the end I'm like I'm so tired of talking about the right to vote, um, but I'm also…
JEFFERSON; Do you want to talk about Marvel superheroes?
KRISTIN: Right, exactly. I was like, I need to go watch a movie. Um, but you know I finished the book mostly last spring and then COVID hit right as we were sort of ramping up to publish, and so then I shifted gears and turned all my attention to, my attention to helping other states vote by mail the way that Oregon does, and then I sort of came back to the book in the fall. So it was actually really nice to have that sort of time away and then come back and sort of put a few polishing touches on it and feel fond of it and not like, I was not like, it was a monster.
JEFFERSON: So, I want to go through some questions about it, but we'll order those questions almost like we're an extra long Blinkist, right. So, so people will be able to do something else in the book. but also also catch up on the conversation a little bit. And what you said with your "Thanos snap"--I think you had four jewels in your snap. You started out, your first one was essentially freeing voters to vote. We know some of what's in their way right now, we know that it is a technique--might give it too much artistic credit--but it is now, it is now a technique by a major, a major political party to limit those who vote, thinking that, you know, those people also might be some of the people who weren't in favor of an oligarchy or plutocracy. How do you characterize, how do you characterize the unfreedom of free, uh, voters to vote right now?
KRISTIN: Yeah, unfreedom...
JEFFERSON: Or the freedom. Maybe it's free. Scale one to ten, how free are voters to vote? What would you give us?
KRISTIN: It really depends on the state, right. So, in Oregon, we're doing pretty well. I mean not perfect. There's a, there's a few more things we could do. But we're doing pretty well.
JEFFERSON: On the Kristin Eberhard scale, what would Oregon get, scale 1 to 10?
KRISTIN: I'd say an 8.
JEFFERSON: Nice. What would it take to get, what do we need to do to get to a ten?
KRISTIN: Um, so there's a few. So, um, we don't pre-register 16 year olds. We right now don't have a universal ballot tracking for our vote by mail ballots. Um, we don't allow people who are in prison to vote. So there, you know, a few more things we could do.
JEFFERSON: Hear that democracy advocates? You got some work to do in Oregon. What's a state that's doing real real bad. Or it, you know. yeah I'm going to use that language. That's maybe below a five on your scale.
KRISTIN: Yeah, Texas.
JEFFERSON: Oh, all right. What would you give Texas?
KRISTIN: I mean, okay. So if my scale is sort of like one, it's like you cannot vote at all, obviously Texas is not there. So maybe they're more like a five.
JEFFERSON: All right. Well no, I...I would, I would think that one would not be like, you know, the Marcos fan, you know, it doesn't, it doesn't have to be, you know, like, like Stalin. Doesn't have to be a one. Like Stalin gets to the negative scale.
KRISTIN; Oh, okay.
JEFFERSON: So it's like we can still have--like, in the main of the United States, right, roughly speaking.
KRISTIN: Oh, right.
JEFFERSON: Is--is Texas the worst?
KRISTIN; Texas is more like a two. Yeah. They're, they're down there.
JEFFERSON: What would they need to do. How come they're a two?
KRISTIN: Um, so Texas does not automatically register their voters. They do not let anybody request to vote by mail. Um, they do not allow drop boxes for their vote by mail ballots. Uh, they have attempted to make it a felony if you or, you know, a crime if you make a mistake, uh, on your registration form, which kind of makes you just not want to do it. Um, so they have lots of-- they are sending lots of signals to voters that it is they would kind of prefer that you not vote.
JEFFERSON: Are there...one of my great sadnesses is that the partisan divide around democracy itself has become pronounced. And it, it really is among my not very many greatest sadnesses. That starting off a bed of agreement on fundamental structure seems important and useful and it seems like we cannot have that assumption. Part of the reason this court sits is to think about how we might reform or create such, if not consensus at least you know 65 percent, 70 percent agreement. Are there any Republicans you're looking to, and I'll give even more preamble. Back in the day we would find, like, there'd be a Republican Secretary of State in some state who would like, be down, right, like actually care about democracy, want to work on stuff. Is it just my jaundiced eye that is seeing that as less easy now? That somebody, you know, we're seeing now the Georgia Secretary of State who said, "Well, my job is sort of democracy" and now they want to oust that person in the primary. Uh, talk to us about what's happening with this partisan divide. Push back on my premise, or help us understand it.
KRISTIN: I, after the election, I had this moment of sort of naive hope that perhaps the election would change that because there has been a growing consensus amongst both Democrats and Republicans that more people voting is good for the Democratic Party and bad for the Republican Party and I actually, I question that assumption and I thought that this election with record turnout for both parties, it seems clear to me that there were there were new voters coming, um, who were Republican voters. I mean, that's not just clear to me, that is clear from the data that not all the new voters in this election were Democrats. They were, they were Republicans too. And I thought maybe that would shift the conversation. That maybe both sides would start to question this assumption that voters are good for Democrats and the Republicans would look around and say "You know what, we got some new voters and they voted for us. Maybe we should do more of that.' I am disappointed to say I haven't seen that playing out. And, uh…
JEFFERSON: Why, and why do you think, why do you think that is? And I'll give some preamble here. One could imagine, let's imagine the the post-mortem, every sort of political party after and it's not just the party, right, but there's sort of a series of post-mortem meetings with some of the, uh, important strategists and funders and elected officials, uh, after wins and losses. What to do well, what do you do differently. And, and one could imagine the Republican post-mortem being something like, you know, we were closer than anybody thought we might be. We got within, you know, not very many points. What do we need to be to be a majority party in the country. And then you can imagine somebody else in the room saying, "No no no." it's not the way. We become a majority party, is to make sure you don't have to be a majority party that, that by making sure the Senate stays the way it is, the Electoral College stays the way it is, that we, you know, keep down, uh, voting, particularly within urban areas, particularly in Black communities and with young people that, that then we don't have to be a, a majority party in the way that most people would define that term. Uh, why do--I have my own answer to that, well I have my own hunch about this--why do you think the side saying no, no don't work on the platform to get to 51 support among everybody, instead, uh, instead work the system so that, that doesn't matter as much. Why do you think that side wins?
KRISTIN: So I see two big factors here. One is that the Republican Party did that post-mortem after Mitt Romney lost in 2012. And they, they literally wrote, like they wrote the post-mortem that said "We need to become a majority party, and to do that we need to start reaching out, uh, particularly to Hispanic voters. Hispanic voters are often a good match for us culturally.They're, they are often pro-life. They are often, uh, you know conservative in terms of their family values and we have not been reaching them. And so our, the future of the Republican Party is to reach those socially conservative Hispanic voters and make them Republican voters." Um, and so some people in the party started doing that. But what happened in 2016 was that that part of the party lost control of the nomination process. Um, and instead of nominating Jeb Bush, who was, you know, out speaking in Spanish to supporters or Marco Rubio who is Hispanic they, uh, you know, "build a wall." The voters nominated Donald Trump and, which brings me to my second hunch, which is that we have strong partisanship and weak parties right now. If we had a stronger Republican Party, I think that maybe there would be a different conversation. But it was a weak party. Trump took it over, took it apart and left it kind of in disarray, where there's just not a strong enough voice to, to do that postmortem and say "What should we be doing as a party.' Instead everybody's kind of just chasing their tail trying to be the next Trump.
JEFFERSON: I have heard you offer that insight before. And I want to give it blinking lights, because it seems so important, necessary, and useful to understanding what's happening in American democracy. Now I heard you say strong partisanship, weak parties. So, whereas the old thesis was the, uh, the party decides, right, the, uh, and whatever, sort of collection of party elites that filter they'll keep out, let's say, Donald Trump from getting the nomination, all right, and but partisanship, uh, not necessarily in terms of, not necessarily always on policy, but in terms of identity, in terms of, in terms of "My team is great, your team is evil." Certainly on the Fox News watching side. Never seen anything like it. I already teased part of my answer, which is, I think, all of this is always a racial story. I think all of this stuff is always a media story, right. Like I, I think the Republican Party decided to be, maybe not the party but the partisanship, decided to be a white party, uh, that to me is inextricably linked to, uh, to Rupert Murdoch and Barry Diller pitching the idea to Murdoch saying you could make a White Christian conservative, less urban news network. And you wouldn't need a majority of watchers to be the number one cable news network in the world. And then lots of websites started copying that model. And by the way, prior to that, Rush Limbaugh demonstrated the same thing on radio, which helped birth all this stuff. So that's my explanation. How do you think about, what do you see as the root of that divide between greater partisanship, but weaker parties.
KRISTIN: Um, so I think it, you know some of it is structural, right. So we have a two-party system by design, um, because we use single-winner districts. We are always going to end up with two dominant parties. But then we've done these reforms to try and give voters more power. So, so we created primaries to try and say "Oh, we don't want, you know, people in smoke-filled rooms making these decisions. We want voters to be able to." But, then that, that had these unintended consequences that the most extreme voters in that party participate in the primary, and now they have this power to pick the candidate even if maybe the party, you know, the, the powers that be would have chosen a more moderate, you know, person who could be more likely to have more appeal and win a general election. And so that a combination of having only two parties, so there's just not that many options that voters have. And then we've given a lot of power to the most extreme faction within that party has, has driven, in particular Republican Party, um, to...to to move into this, you know, what when on the national scale puts the Republican Party is a kind of a fringe right-wing party. It is not a centrist right-wing party like Germany has or France has.
JEFFERSON: I, I have a, I have another...I have another hypothesis. I want to challenge your thought, and then let you tell me where I'm wrong and stupid. Uh, and the, and your thought reflects. I think, the collective wisdom of the intelligentsia, right, that there's...they're sort of the smart Republican elites. They didn't want Trump, but Trump won anyway. And that's why there's now this push for anti, sort of anti-majoritarian-ness. I want to say maybe there's a different route. And I or..no, an additional and important and distinct route that, in fact, who has the motive to make sure that majoritarian-ness is less important. Well, it seems like it's not necessarily a millions of voters. It seems like it might be the oligarchs themselves that, that in fact if I am funding this stuff, if I am funding Limbaugh from the beginning, if I am buying Fox News early, if i am running a big website or let's say I'm, let's say, some hypothetical situation where I'm the, where I've applied the greatest amount of money in the history of humankind towards a political project. And to do that, I have built a network of think tanks like nobody's ever seen, and a network of communication apparati that the world has never seen, and I might make sure that inserted in all of that stuff is an undercutting of the idea that we're smarter together than we are apart. That we're stronger together than we are apart. And make sure that, you know, the voices that say otherwise are wrong. That maybe it's not this idea of the, oh, it's the dumb white working-class voter that can't be trusted because they're racist and easy manipulated and they went for Trump, but in fact that the thing has been rigged, not by that mythical or real human being, but by the also real sort of network of folks who are doing the manipulating. Why do you, how do you reply to that?
KRISTIN: Sure. Um, I mean yeah the idea that the, you know, the, the smart powers that be are more reasonable and moderate than Trump, you know, I think that they didn't want Trump at the beginning, but once he won they were like "Okay, well we can use him to get our tax cuts and our deregulation that we wanted anyway." Um, so I don't think that they're out there trying to get rid of that situation. Um, and yes I think that, you know, I think like especially what we see right now around voter fraud is that the, the news sources that people are getting that, you know, Fox News viewers are getting, are telling them that there was rampant fraud in this election. And, you know, and I sometimes think about what if the, the news sources that I trusted…
JEFFERSON: Yeah.
KRISTIN: ...that I thought this is a legitimate news source look at it said you know it's, it's on cable news, it says fair and balanced and it was telling me there was rampant fraud in this election! Dead people were voting! You know people were voting twice! This election is not right! You can't trust thi! I would be outraged. I would, I would be in the street saying, like, "How can this be happening in the United States of America that this election was so fraudulent? And why aren't, why isn't somebody doing something about it/" Um, and that wasn't like Trump...didn't mean to interrupt you.
JEFFERSON: Please feel free.
KRISTIN: Sorry, no, that's a perfectly reasonable reaction to the information environment that you are in. And you are absolutely right, that information environment has been. uh. very knowingly and specifically created by who owners of by, by the right. By Rupert Murdoch. By the by the owners of those, those media outlets.
JEFFERSON: That was an ALEC thing right? They were pushing for, they've been pushing for a long time. Like, like the party elites that, that the much of the mainstream conversation has tried to shield from responsibility of the excesses of the current right-wing movement have been in fact at the root of the excesses of the right-wing movement. This is to me one of the, like I'll match you your sort of, your party weak partisanship strong sort of blinking light thing with with another, which is Trump didn't start this stuff. We overrate his importance. We do not overrate his moral importance or his historic importance, but we, uh, overrate his original importance. His or his importance as a founder originator, a thought leader, uh, in, in this stuff. Rather, he's, he is more a retweeter than a, uh, than, uh, than a think tank theologian. And, uh, anyway, I just, I sort of want to flag that and maybe this jumps ahead way too far in the, in the expanse of the Kristin Eberhard brain. What do you think doing about that? Maybe it is as simple as: Go back to democracy. Read my book. Uh, but what do we, how do we do that? If only, if, you know, 46 to 54 percent of the people are gonna care about democracy itself, how do we get to a place where we start actually doing it?
KRISTIN: Yeah. I mean, I think when you present people with, um, when you ask people, you know, like do you care about democracy, most people still do. But then when you present them with, "Hey, will you, you know, go against your team? Go against your side in order to promote democracy?" That, that's a little harder question. And then when you say, "Hey, will you go against your team to do something that actually isn't going to help democracy, right? So, will you vote against a Republican because they passed a bill in Georgia that, um, they say and your news sources say is helping democracy by increasing election integrity." Um, then the answer is obviously no. You're going to stick with your team. So my solution is, uh, there needs to be more teams. Um, I think that part of what has makes it easy for, you know, the Rupert Murdoch or the ALECS of the world to capture, um, so much political power is that once you've gotten enough of this side, those people do not want to vote for a Democrat. And so you can push things pretty far. And they're not going to defect because they don't have a good option to defect to. Whereas imagine if there were a socially conservative but actually, you know, sane and moderate and pro-democracy party that some people could say, you know what this is, this is not sounding quite right. I'm not sure about this party. I'm going to go to the other one that matches my values, matches my identity but also matches my belief in democracy,
JEFERSON: All right. So you essentially say, let's mix it up. It used to be that parties were sort of mixed up and confusing, right. Like they were legitimately, like strongly liberal big R Republican elected officials, candidates, supporters, donors, etc. Right Pretty much til Nixon and, with a little bit of taIL after that. There were legitimately rock-ribbed conservative, racist, uh, democrats up until you tell me when.
KRISTIN: Goldwater and the Southern Strategy.
JEFFERSON: There you go. So it's, uh, and, and so it was, we had sort of built-in multi-party system, right.
KRISTIN: It was just hidden.
JEFFERSON: There were sort of multiple Democrats and they were within their, you know, within a couple banners. And now, things and, and I, I appreciate that this is a basic understanding. basi--and I don't mean simpl--I mean essential fundamental understanding, if we're going to do anything, for us to have this shared understanding. That, that, that meant it was easier to find strange bedfellows because people were. you know, in all kinds of sorts of different beds. Also because it's related to another misunderstanding. I do think that liberal coastal elites have, are subject to some habits of mind that are wrong, stupid, destructive. And, and misleading. And that, and some of that is this idea of the ex-urban rural voter as a dum-dum, under-informed, low-information voter. And that's the only reason they would disagree. Okay, so. Because of course! And I think part of it is because liberal elites, uh, define their self-image, identify their identity so much with their intelligence. And so, if you, so if you criticize, uh, Bush. If you criticize Reagan. You criticize Quayle. if you criticize Trump as a dum-dum, everyone was like "Yes, there's a dum-dum. That's different from me becauseIi'm a smarty-pants." Right? Chaplin did the same thing with Hitler. Didn't work so good. There is, but then when you look at it, Trump voters were not under-informed. Like the Fox News voter that they have some wrong information, they'll answer some tests in ways that are contrafactual, but they're not in terms of amount of information, "under-informed voters." So that I don't filibuster, feel free to push back on that or respond to it.
KRISTIN: Uh, I completely agree. Um, about the information. I think that liberals do put a lot of emphasis, like I often, when I talk about things related to democracy, people are like, "We need more education! You know, that's what we need is more education!' And I feel like that's a knee-jerk reaction. That it's not necessarily addressing the underlying problem. And I just want to, uh, um, go back to what you were saying about, um, well to to kind of emphasize...When we had this sort of mixed-up party system, right, that we had two parties but really within them were multiple parties. Part of what that did to, in the legislature, it meant there was more flexibility to work together, because you, you did have these different views. And you could work across--party lines Just didn't mean as much. But for the voters it also meant that you could have multiple identities that aligned in different ways. Right. And so people did. They switched. They voted. They didn't vote straight ticket. They were sort of looking at like who do I like, who, who is saying things that I like. Not just like, what are they, a "D" or are they an "R." And the realignment, one of the destructive things is that now the parties are so aligned with identities and it's hard. You're not going to go against your identity. You're not going to go against who you are. And so, if who you are is a Democrat or who you are as a Republican, then you're going to vote straight ticket. And you're going to, you're going to be influenced by what you know. If they say things that sort of didn't necessarily agree with your worldview, you might update your worldview to agree with them. Because they are representing your identity. And so a, a multi-party system where you have a few more options, now we might go back to a world or, you know, not back but forward to a world where you might have some cross-cutting, cutting identities. And so you might say, "On this issue, I'm a Green Party but on this issue I'm a Democrat, or on this issue I'm a Working Families Party. And that creates more flexibility, both among voters and then among who they're elected, electing to actually think about issues and get stuff done. And not just think, like, "Who am I?" and the answer is Democrat or Republican.
JEFFERSON: The last, let's call it a couple election cycle, I become more convinced that you're probably right. Right. That we need, we need to shake it up so that we can have, so that we separate ourselves from being in a falsely binary world and thinking in terms of two simply friends and enemies with too many things lined up on either side. Uh, that said let me push back against that a little bit or at least and I can do it in the form of a question. Uh, Europe still seems like they're getting messed up in places too. Uh, places with parliamentary systems like Israel doesn't seem like they're getting, getting it all figured out. India doesn't seem like it's getting all figured out. England doesn't figure like it's getting all figured out. The, uh, it's see--heck, France, Italy, Greece. And you tell me: is there a democracy you think that's working really well that you can point to, its party systems as a key reason?
KRISTIN: First, parliamentary versus proportional. So parliamentary has to do with who's the head of government. So, United Kingdom..
JEFFERSON: Fair. Fair. They usually walk together though, yes? There are some places that have presidential issues and proportional issues.
KRISTIN: Usually. But, for example, India and, um, England are both parliamentary, not proportional.
JEFFERSON: Yeah.
KRISTIN: Um, so yeah. And so, second. Yes, multi-party system doesn't solve everything. It's not a silver bullet. But…
JEFFERSON: Is it even a bronze bullet?
KRISTIN: Is it a bronze bullet…
JEFFERSON: What color, what, what metal of a bullet is it?
KRISTIN: It's a bronze bullet. It's gonna, it's gonna kill anti-democracy sentiments. Um, so…
JEFFERSON: Really? Did you have proportional representation. So who's using proportional representation now?
KRISTIN: Um, so Germany, Sweden, Finland. Uh…
JEFFERSON: You started with Germany. Now Germany seemed--how long have they been doing proportional representation?
KRISTIN: So they have been doing a form of proportional representation since before World War II, but they rewrote their constitution after World War II, um, to revamp the type of proportion.
JEFFERSON: Oh that's important, because the first thing I was going to do. you say "Germany" is like "yeah."
KRISTIN: Exactly.
JEFFERSON: Part of the concern of proportional representation is, is anything that moves away from majoritarian control, right, puts a greater risk that a plurality can do the whole thing. And then somebody like be, like, well Trump, but, but somebody like Hitler, Not the same thing, right, can arrive...what, what were the constitutional changes…
KRISTIN: Well I just want to address that, that the idea that we are a majoritarian system and so a plurality can't do something and that proportional systems allow a plurality, that is actually completely untrue. So, right now in the United States, um, we have, had a president who did not win majority support.
JEFFERSON: I concede that.
KRISTIN: For years, a Senate that does not have majority support. So we have a minoritarian system here. Whereas, um, proportional systems actually require a majority. Like you have to get a majority coalition together to get something passed.
JEFFERSON: All right. So, I still want to get back to the Germany thing. Because again, I started with saying I think you're probably right, and at the same time me thinking that stuff is messed up. is not the same as me thinking...and i'll say, the Ben Cannon view, and it's a good view as I've got, the Ben Cannon view is, uh, there's time for all this stuff. Because we just got to change things up. And it sounds simplistic. But it's at least as good as any analysis I have to offer. For sure. To be very, very clear. There is a risk, though, that just because something, just because stuff sucks now doesn't mean that the alternative sucks less. So let's get back to Germany. What did Germany do to change the proportional system so that now you like it, whereas maybe the kind of systems elected Hitler you liked less?
KRISTIN: Yeah. So, I'm actually not an expert on the Weimar Republic, um, I do know that in some sense their proportional system did its job of keeping Hitler's party...they only won, you know, they won plurality support, and so they only had plurality control of the government. Which is why he manufactured a crisis in order to declare an emergency and basically seize authoritarian control. The system actually didn't give him that. He burns down the statehouse in order to get it, but other than that I don't actually know a lot of details of it. But their current system that Germany uses is similar to the one that New Zealand uses very successfully. And it's, uh, it's kind of a hybrid system. So you still have some single winner districts like the United States, where you have, you know, your local rep. And then you have, um, other, uh, representatives who are elected nationally who are there to represent more of the national interests. And so you put those two things together, and you get a more fair representation of people overall. And then people feel more trusting that the system is actually representing them and working for them.
JEFFERSON: Of your, of the stones in your Thanos gauntlet, which is the most important?
KRISTIN: I think this one is.
JEFFERSON: Okay. All right. I found our area of disagreement. And i do, I don't get me wrong. I, I tend to worship at the at the altar of Kristin Eberhard, but the, uh, or, or at least, at least you know, preach at the, preach at the hymnal. Uh, that's not exactly right. The, uh, so on a scale of one to ten on how much it matters, what do you give it? It's like an eight, a nine, a seven? We could just to set a baseline.
KRISTIN: I'd say seven.
JEFFERSON: All right. So, use New Zealand as an example. And I think a lot of democracy lovers are pretty big fans of New Zealand, right. They seem to like deal with their problem of mass murders, right. There they seem to like actually be a social democracy that's kind of working. People seem kind of happy. They seem to have a, have a leader that people are pretty psyched about. The analysis I saw had little to do with its voting system. It had a lot to do with its media. That Rupert Murdoch had not taken hold. And that's where I would put number one, right. That the, that's where I would put number one. Is, is that in any of these you can break. right. Approach representation. You can elect Hitler in a majoritarian system. Let's not call this majoritarian. How do you describe our, how do you describe our current system?
KRISTIN: I mean, technically it is called majoritarian but, uh, that doesn't really work right now, so…
JEFFERSON: I need a word for the U.S. system right now. If you don't like democracy or oligarchy or majoritarian we need a system. I don't just want to call it the "U.S. system."
KRISTIN: Yeah.
JEFFERSON: All right. We need a word for that. But that system, that system could elect Donald Trump. And my point is, not to just whack Trump to say that dude never got a majority of voters, unless you believe in the like deepest, darkest recesses of 8chan. The, uh, it is a so... but it's helpful to know that you think that one matters most. Uh, what is, what are the prospects right now? You're working to try to get--what towns like Portland to, uh, to consider stuff like that? Is the next move trying to get cities to pilot it?
KRISTIN: Yeah. Or school boards, I think, is a good place to pilot it. School boards are often, you know, especially in states with growing people of color populations in the United States like, like oregon. The school boards are increasingly kind of out of step with the student population that they're serving. Um, and so...and they're also sort of an entryway, a place that a lot of people start getting engaged in, in, um, governance. So I think those are a good place to, to try this out all right.
JEFFERSON: So voter access--where do you put that? How, where do you rank that on your, on your Infinity Gauntlet stones, and, and what do you give it on a score one to ten?
KRISTIN: Yeah, so voter access...I, I would actually put this lower, just because there are a lot of places in the United States that are doing pretty well on this. The, the places that aren't are galling and horrific, but overall, um, I don't, it doesn't have as big as an impact. I think. So I, I would put it a little lower. And I give it like a five.
JEFFERSON: All right. So now I'm now realizing if we have multiple political parties, you and I are gonna be in different political parties. Which I really appreciate, because we'll still agree on so very much and that'll help…
KRISTIN: We could still pass legislation!
JEFFERSON: We could still pass legislation.
KRISTIN: Even though we'd have a different label.
JEFFERSON: So the reason you put it lower is because there are more places doing well so less energy needs to be put there? Or because when you look at places that have strong voter access and places that don't, you just don't see a particular delta in performance of the democracies?
KRISTIN: Yeah. I think the difference between states that, that have great voter access and the states that have, like, for example, actually New York is, um, does not do well. New York is kind of down there with Texas on voter access. Um, and so, like, can you really say, like, Oregon is better than Texas and New York? And it's it's harder to draw a straight line there.
JEFFERSON: But I kind of like it. I mean, I kind of like it that, you know, if I, I like anything where Oregon is great and both New York and Texas are kind of weird.
KRISTIN: That's true.
JEFFERSON: Because it's not like being anti-rural or mad at cowboys, you know, But just like no, like both of those like, I can, I can, like, be mad at Pace picante sauce and whatever else. it doesn't matter.
KRISTIN: Definitely Oregon wins on this one.
JEFFERSON: Let's go to that, on voter access In Georgia. Georgia, what enacts, uh, automatic. uh, automatic voter registration in 2016. Big increase in voter registration rates. As high as 93 percent. Uh, twelve thousand new voters added the rolls each week. Forty percent of Georgia voters are people of color. Forty-seven percent of new Georgia voters are people of color. Uh, I will say maybe this is just trying to recruit people to my political party that sounds really important. Is that...but now a backlash. What's the state of voter access, not just the attacks on it which are getting some coverage, but the good news, places not just Oregon, but other places that are trying to advance, uh, doing, uh, doing things like automatic voter registration?
KRISTIN: Yes. I mean, automatic voter registration is a great example. Oregon was the first, were the very first state to do more automatic vote registration.
JEFFERSON: Oh, I know.
KRISTIN: And now there are 19 other places that are doing it. And hopefully eventually every state will do it. And it's, it's just, it seems to me like such a no-brainer, right? You have people who are eligible citizens. They are showing up at a government agency with an ID proving their identity, proving they're citizen. Just put them on the voter rolls. Um, and so a lot of other states are seeing the sense in that too.
JEFFERSON: Third on your Infinity Stones in ranking. We went out of order that you listed them, but I like this order better.
KRISTIN: Yeah. This is so hard because…
JEFFERSON: Because somebody gets to be last.
KRISTIN: Yeah. And well, and it's also hard, because like sortition...
JEFFERSON: Yeah.
KRISTIN: I think, has this huge potential. Like maybe, maybe the most potential of any of these.
JEFFERSON: That's the one that is becoming my number one....
KRISTIN: Yes.
JEFFERSON: ...deservant of energy. Which is where I want to finish.
KRISTIN: But it's the least proven.
JEFFERSON: Yeah.
KRISTIN: And so whereas like proportional representation, I can kind of point to the countries that have done it and say, you know, what they've taken bolder climate action…
JEFFERSON: Germany's always been great. Every time Germany has done it, it's been so great.
KRISTIN: Right. They've, they've, they have, they have less inequality. They've legalized gay marriage much faster. I think, like, there's a...you can see the results that it has. With sortition, like, I think it would be cool, but, um...do we really know?
JEFFERSON: The mad scientist inside Kristin Eberhard thinks it would be great.
KRISTIN: Yeah.
JEFFERSON: That's how I am.
KRISTIN: So that's, I'm, like, maybe sortition is my first. Or maybe it's the last. I don't actually, don't know how much it can really do.
JEFFERSON: That's fair. So let's dwell on it for a moment. I, I, the reason it approaches first or, you know, like where more and more my energy is going or more my attention is going, uh, and maybe it's just out of curiosity, but one of the same reasons you like. the same reason as one of the reasons you like proportional representation is it seems to offer some hope of breaking down, uh, I, I'm bored of the word partisanship, in part because it falsely suggests, uh, a sort of symmetrical divide which is very asymmetrical, but the, but let's call it tribalism. Right. That, that if you, if you bring people together, like when I'm...if I'm on a randomly selected jury--and by the way, the sortition, if that's a weird new word to folks, what we're basically talking about is citizen juries. Uh, we're basically talking about a jury-selected, Ancient Greece-style, but not as, uh, but not as racist and sexist as Ancient Greece-style. Uh, randomly selected people, but hopefully rep, truly representative, making decisions. Is that how would you describe it? How or how badly--or well--did I do?
KRISTIN: Yeah. It's a, I describe it as a, a curated jury selection. You know, so anybody who's ever been to a jury, you're like, "I don't know, is this really a good...is this really a jury of your peers? Um, so that, are these my peers?" Yes, they are your freaking peers. Um, so the, the citizen jury selection. Actually, it's, it's a, it's a group of regular people, but they are selected to represent the diversity of the bigger group that they are representing. So, in Oregon you would say, you know, geographically in terms of age, in terms of gender, in terms of race, in terms of education....um, this group is going to look like all of Oregon.
JEFFERSON: And then you give them information. So it's, it's different than just direct democracy, where you say, "Everybody let's take a poll. Whatever the poll says goes." But you, you give them something, you allow them still to deliberate. It's a deliberative body of some sort. Any, any examples of citizen juries or, or curated juries or sortition that you're looking at? Anybody who's trying an interesting pilot? Because I got something to plug to you.
KRISTIN: Oh, okay. Good. So most of the pilots are, they're kind of interesting. You know, people get together, they come up with some policy recommendations. And then nothing happens. Um, so the most interesting thing that I think is happening right now is Belgium has a, um, continuous citizen jury. So it's not just like, "Hey tell us what to do on climate change and then we'll ignore you and you'll go away." It's actually a sitting body that's now a part of their government, um, and has some law-making power. And people rotate through it, I think, like every six months. Which means that, it's like by the next 10 years, like most Belgians will have, have served on it at some point. Um, and it is, it has more power than just like writing a report.
JEFFERSON: The, the plug I have is right now, I mean like locally. Uh, it seems like the same move that you want to do with school boards and proportional representation could happen with, uh, with city charter reviews. When cities and counties are reviewing their charters, that inserting within local governments some element of not just advisory group, "Hey, we're going to, you know, write reports about how the police are doing." Uh, and, and or, or racial impact statements or environmental impact statements. But go deeper and say, "No, we certain decisions and here and here's one way to maybe do it. Is you just you create a citizen body." It is selected to represent the citizenry and the currently elected city council and or the mayor, depending, could refer questions to it, right? So you could, you could like say, "Okay, yeah, we make an answer to city council or and right now sometimes they'll refer to the voters, right. The voters get to decide. You don't have to take that option away. But you give one. It's sort of a baby way of doing sortition. They're saying, "Okay this is the kind of question." And then we figure out over time the kind of questions that work best for that. Anyway, there's my plug.
KRISTIN: Yeah. Yeah. I have another plug. Um, in, you know, Oregon where we had, uh, senators leave the state to deny a quorum?
JEFFERSON: That could never happen. Why would they do that? They would be not doing their job. And it would seem horrible.
KRISTIN: And then voters would punish them for it, right?
JEFFERSON: They would lose their elections. You'd have to have consensus among the press that that wasn't a good thing. I mean, you know…
KRISTIN: Um, so having a safety mechanism that says, "Look, if an issue comes up and you know people are ready to vote on it but they're denied a quorum, we kick that issue to a citizen assembly. And give them authority to implement, you know, to make into law whatever they come up with on that topic." So now there's, you know, some motivation to stay in the room. And something happens if even if they don't stay in the room. And I'm sorry, I have to go.
JEFFERSON: Yeah. You, we've got to wrap this. And I do want to push back on one thing that I said. Which is, so the mechanism of ranking, I mean they started doing that with college football teams just because it gave them an order to talk about them. The ranking, it doesn't matter because it, it in most respects because you might be "All of the above." Also it probably matters which thing where for what purpose. And so I want to push back…
KRISTIN: And also a lot of these things are really synergistic, right. Like if you have a proportional system but not everybody gets to vote then it's not going to proportionately represent them. And similarly, if everybody gets to vote but their vote doesn't matter because of the electoral college, um, then it, you know, it doesn't matter as much as if they alt vote. So in a lot of ways, you just need them all together.
JEFFERSON: Kristin Eberhard, final word.
KRISTIN: Check out my book. It's on audio, Kindle, print book. Becomingademocracy.com
JEFFERSON: "Becoming a Democracy: How We Can Fix the Electoral College, Gary Mandering,"--she says gerrymandering. so that should probably govern--"and Our Elections," by Kristin Eberhard. Thank you, the author Kristin Eberhard, for joining. Congratulations on getting the book done.
KRISTIN: Thank you so much.